DUOTACK® SPF Adhesive
FASTER FLOW RATE, HIGHER YIELD 
Specially designed for roofing
DUOTACK® SPF Adhesive is a low-pressure, two-component spray polyurethane foam adhesive. It is designed to provide quick, efficient adhesion of PVC roofing membranes, insulation and coverboards to approved substrates. DUOTACK SPF was developed by SOPREMA chemists with vast knowledge and experience in the roofing and polyurethane foam industry to provide 50 percent more coverage and a faster flow rate than competing products. It also has usability in multiple applications without the need for extensive inventory and equipment, like Pace Carts.
Advantages of DUOTACK SPF Adhesive:
50% more coverage than the competition (up to 30 squares of coverage per kit)

Faster flow rate than the competition, allowing for faster installation, providing time and labor savings

Multiple applications in one portable, easy-to-use, disposable kit, eliminating the need for duplicate inventory and expensive equipment 

Developed by industry expert chemists at SOPREMA for excellent performance in conjunction with roofing materials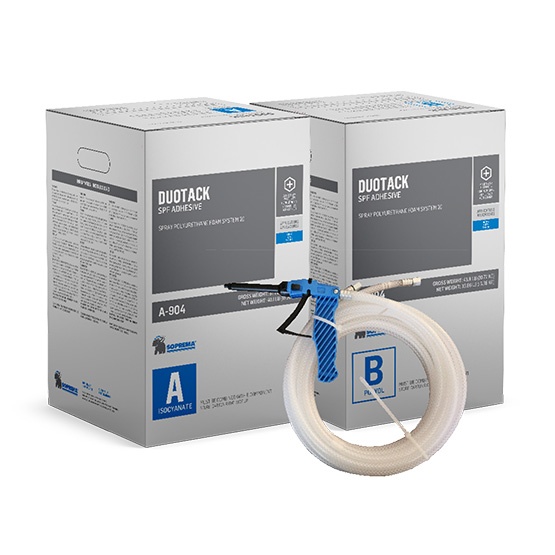 BECOME AN EXPERT!
Learn all about DUOTACK
Our DUOTACK product line offers reliable adhesives for a variety of application types. From DUOTACK 365 to DUOTACK SPF, there is an adhesive to fit your project needs. Learn more about the different products and applications!
Contact a Sales Representative to Learn More
"*" indicates required fields