ULTRA-STICK® SELF-ADHERED ROOFING IN ACTION!
Fourth Avenue Junior High School – Yuma, Arizona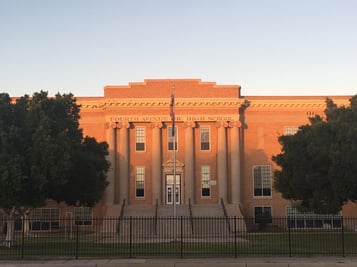 Fourth Avenue Junior High School, located in Yuma, Arizona, can be recognized by their school colors of red, white and black. With nearly 450 students, the junior high houses grades 6 – 8. The building  was built in 1920 and was named a National Historic Landmark in 1982. When the building required a roof re-cover project, its National Historic Landmark status and student safety were top priority. Due to its history and age, care needed to be taken when completing the project. The products installed were required to be odor-less and could not damage the building.  The project needed to be completed quickly, without lingering odors, as they planned to complete the installation over their holiday break. 
With the breadth of products offered by SOPREMA, it was an easy solution. A layer of SOPRABOARD® was installed as the coverboard to protect the wood decking. Then to address the necessity for a quick and odor-less installation, ELASOPHENE® ULTRA-STICK self-adhered products were selected. ELASTOPHENE ULTRA-STICK was installed as the base ply, with ELASTOPHENE ULTRA-STICK FR GR as the cap ply. Due to the ease of application and the time and labor saving self-adhered products offer, the project was completed quickly and with minor disturbance to the building. 
"SOPREMA's new ULTRA-STICK products were very easy to work with and saved us a ton of time and hassle on this project. The membranes stuck very well, even at temperatures of 45°F , and the film surface was great as there was no interply priming required."
— Dick Cates, Project Foreman, Jim Brown & Sons Roofing Co.
LOOKING FOR MORE? 
Check out our additional resources
Whether you are looking to learn more about our products or efforts you can be making to keep your crews engaged and dedicated, we have something for you. Keep reading about the topic of the labor shortage here:
Additional Resources
Request A Sample
"*" indicates required fields